Duct Cleaning by the HVAC Professionals
White Heating & Air Conditioning takes pride in being a full-service HVAC company and in addition to repairing and installing HVAC systems, we also offer duct cleaning services. We've been serving Billings, MT and the surrounding area for over 20 years, so you can feel confident that your duct cleaning will be carried out professionally and thoroughly.
But why clean your air ducts, anyway?
What's In Your Air Ducts?
It's important for both homeowners and business owners to provide clean air for themselves and their guests, and clean ducts are the foundation for good indoor air quality. Humidifiers and air filters can improve air quality, but if your duct system is blowing contaminants throughout your home or office, you'll need to start with a cleaning. Though you may have never seen the inside of your duct system, trust us – you want it squeaky clean.

Over the years, air ducts become become contaminated with dust, mold, fungi, pollen, and more. If you notice any of the following in your duct work, you should consider having them inspected and cleaned:
Obvious mold growth
Evidence of insects or rodents
Excessive debris, visible particles/dust entering the home from the vents
Strange odors from your heating and cooling ducts
Clean ducts can relieve respiratory symptoms like allergies, asthma, and sinus congestion, and leave you breathing easier in general. Hear it from one of our customers:
"I struggle with year round allergies so I was more than thrilled to have the team at White Heating and Air Conditioning come out to clean my air ducts in my home. Their guys were on time, very tidy, and I noticed the difference right away. I was impressed by the before and after images the technicians showed me of the ducts. My home in the Heights is only 7 years old and the amount of dust and build up in my ducts before they cleaned was very surprising. I can literally breathe easier in my home now. Thank you White Heating and Air Conditioning for cleaning my Air Ducts!"
 ~ Lindsay – Billings, MT (2017 Customer)
Considering a duct cleaning, but need a little more information? Additional details on our air duct cleaning services are available below, or you can contact us with questions or visit us at our showroom at 1125 4th Avenue North in Billings, MT.
---
Processes & Methods
Below is a preview of our video demonstration of our new Nikro Negative Air Machine. Curious about more details of the duct cleaning process? See more on our methods, processes and equipment.
Duct Cleaning FAQs
If you've never had your ducts cleaned before, you might be wondering: How do I choose an air duct cleaning service? How do I know they did a good job? Our most frequently asked questions may be of some help to you. Feel free to give us a call with any additional questions.
Dryer Vent Cleaning
With our new Negative Air Machine, we can achieve even better results for traditional duct cleaning. This new equipment allows us to clean dryer vents as well. Dirty or blocked dryer vents are a leading cause of dryer fires – learn about the importance of clean dryer vents.
Duct Cleaning for New Construction
Construction is a messy process, and if contractors didn't properly seal your HVAC system, your ducts could be contaminated before you even move in. Learn more about duct cleaning for new construction.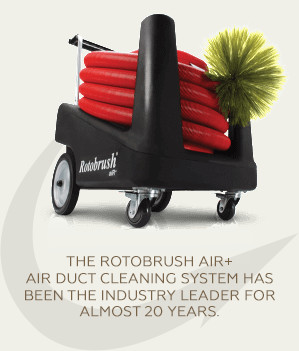 Click here for a Free Quote