Winter Warmth for Your Garage or Shop
Separated Combustion Hot Dawg garage heaters from Modine works efficiently to keep you warm and comfortable, regardless of what the weather's like outside. A range of heating outputs assures there's a model to suit your needs and your space. Don't neglect your hobbies over the winter months due to a cold workshop or garage!
With a reputation for quality and performance, Modine has been a trusted name in the heating industry for decades.
These garage heaters are designed to provide consistent warmth in even the harshest winter conditions, making them ideal for keeping your garage comfortable year-round. They come in various sizes and heating capacities to suit different garage dimensions, ensuring that you can find the right model for your specific needs.
One of the key features of Modine garage heaters is their advanced heating technology, which optimizes energy efficiency while delivering powerful heating performance. Many models incorporate a high-efficiency burner system that reduces fuel consumption, resulting in cost savings and a reduced carbon footprint.
Installation is relatively straightforward, and Modine offers a range of mounting options, including ceiling and wall mounts, to fit any garage layout. Safety is also a top priority, as these heaters typically include built-in safety features like automatic shut-off mechanisms and protective grilles to prevent accidents.
Additionally, Modine garage heaters often come with user-friendly controls that allow for precise temperature adjustments, timer settings, and programmable thermostat options, giving you greater control over the heating process.
Features:
Models range from 30,000 to 125,000 BTU/hr
Draws combustion air from outside to ensure you're breathing clean air
Fans are specially engineered to operate quietly
409 stainless steel heat exchanger available – offers greater durability in harsh environments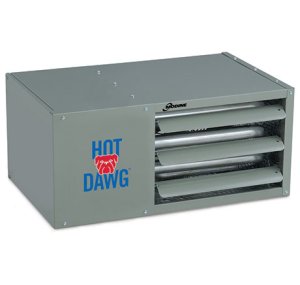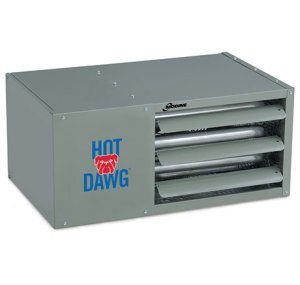 Overall, Modine garage heaters are a practical and dependable choice for maintaining a comfortable environment in your garage. Whether you use it for parking your vehicles, as a workshop, or for additional living space, a Modine garage heater can transform your cold garage into a cozy and functional area throughout the year.
Ready for your own Modine garage heater? Contact us, or click the green banner below for a quote.