We are currently running a special on our Aprilaire whole-home humidifiers! See our current specials for more details.
Typically, we think of poor air quality as an outdoor thing: smog, smoke from wildfires, etc. But neglecting to address the air quality inside your home can cause breathing problems and worsen allergies and asthma. In fact, according to the EPA, levels of air pollution inside the home can be 2 to 5 times higher than outdoor levels! Indoor air quality is one of the top 5 environmental risks for public health, so let us help you improve the air quality in your home.
If you'd like to have the air quality in your home evaluated, get in contact with us! Depending on your needs, White Heating and Air Conditioning can provide you with duct cleaning services, whole house humidifiers, and air filtration products to make your home a pleasant and healthy environment for your family.
Cut Your Heating Costs with a Home Humidifier
Dry air inside your home can cause plenty of unpleasant effects. It can lead to dry skin and sore throats, and it may even allow the flu to spread faster. It can draw the moisture out of leather, cloth, wood, and plaster, causing damage to your furniture, floors, and more. Dry air and resulting static electricity can even damage your electronic devices. As well as protecting your home and health, proper moisture levels can also lower your energy bills.
A humidifier is essential for optimal comfort and energy efficiency in the winter. Dry indoor air draws the moisture out of your skin, making you feel colder. You turn up the thermostat, but you still feel cold – that's because when air is taken in from outside your home and heated up, some of the moisture in the air is lost through evaporation, drying the air inside even further. By boosting the moisture levels in the air inside your home, you can feel warmer without touching the thermostat. Home humidifiers are invaluable for both comfort and energy efficiency, so get in contact with us or request a free quote to find out which humidifier is right for your home.
Better Air Filtration for Better Health
Modern homes are better insulated and more air-tight than ever before, which is great for energy efficiency. However, this also means that particles like pet dander, pollen, and mold can become trapped in your home and cycle through your heating and cooling system. Proper air filtration is imperative for trapping and removing these unhealthy particles from the air you breathe. In addition, proper filtration can extend the life of your HVAC system by preventing dust and dirt build-up. Standard furnace filters help trap these unwanted particles, but we also offer more powerful filters and systems which can remove tiny particles, ozone, and even chemical vapors. Get in touch with us to learn more about our air filtration solutions.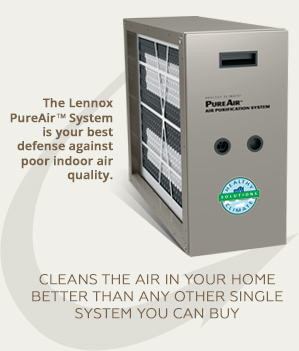 Click here for a Free Quote